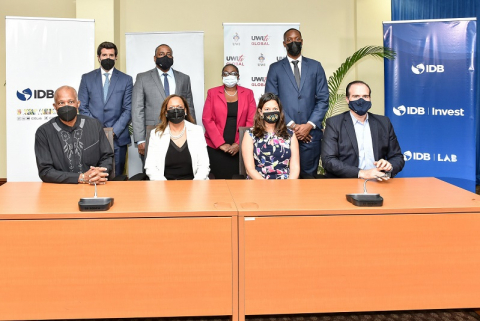 As The University of the West Indies (The UWI) enters phase two of its Triple A Strategic Plan (2022-2027) focused on "THE REVENUE REVOLUTION", Vice-Chancellor, Professor Sir Hilary Beckles has reached out to global development partners in an attempt to secure support for the University's financial sustainability and readiness to lead the post-COVID, economic transformation of the region.
After receiving an audience with the President of the Inter-American Development Bank (IDB), Mauricio Claver-Carone at the IDB Headquarters on November 22, the Vice-Chancellor extended an invitation to the President to visit The UWI Regional Headquarters on his inaugural visit to Jamaica.  During his two-hour visit to the University, President Claver-Carone described The UWI, which he respects, admires and considers, to be one of the best universities in the world.  The President also spoke of the need for a significant multi-donor investment in The UWI and intimated that the IDB has 'the back' of The UWI, and by extension, the CARICOM region.
The UWI and IDB also seized this opportunity to sign a Memorandum of Understanding, which will support joint research and innovation as well as strategic initiatives linked to digital transformation, climate change and resilience.
Click here to read full article
Article & Photo from: The University of the West Indies, Mona