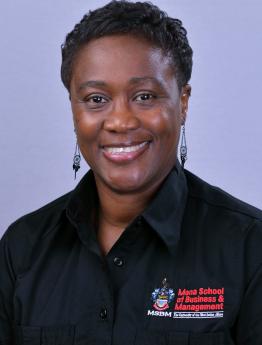 General Area of Academic Specialization
Conflict Resolution/Management
Academic Unit
Behavioural Sciences & General Management
Contact
Mona School of Business and Management (South)
(876) 977-3775
Asked to describe her path, Dr.  Suzette Henry-Campbell would often pause for a bit to reflect. As she tells her story, her journey is one of continuous improvement and in a sense, a recalibration of the mind to address opportunities and challenges in a dynamic environment. Her commitment to her personal growth has formed part of the bedrock of values that she calls upon to support the learning agenda of others.
Suzette has had the benefit of working in the public and private sector. She has honed invaluable competencies that are needed to succeed in the 21st century and is inspired to join many others who are using their platform to create positive change. She has held senior executive roles locally and regionally and her varied experiences triggered an interest in, and subsequent research agenda that focused on the expatriate experience of the Jamaican female senior executive in multi-national corporations. 
With invaluable insight gained from her research, she builds into her workshops and learning development programs, applicable themes that center local cultural and indigenous practices within the larger imperatives of international business. As a Lecturer in the Department of Management Studies, at the University of the West Indies, Mona Campus. Suzette cultivates a co-creative space to help students contest ideas, problem-solve and arrive at solutions that emerge through dialogue.
Her research interest is framed in the intersectional space of DEIJ (diversity, equity, inclusion and justice) and Conflict Resolution.
In her own words, she believes:
"We are more alike than different; but our greatest challenge is tapping the diverse and rich pool of answers to address our most stubborn socio-economic, political, national and global concerns." – Suzette Henry-Campbell, Ph.D.
Some Research Highlights:
Expatriate experiences and the role HRD plays in cultural awareness in international companies (Co-authored – February 2021) 
The Future of Work: An investigation of the expatriate experiences of Jamaican C-suite female executives in the diaspora, on working in multinational companies (Dissertation – Nova Southeastern University) - 2019
An analysis of learning styles: Generation X and Millennials - 30th International Self directed Learning Symposium, Coco Beach, Fl. (Co-authored, 2016)
Encyclopaedia of Strategic Leadership and Management: Managing Diversity in the 21st century (Co-authored, 2016)
Transformative learning theory and its relevance to managing group dynamics in a competitive work environment. South Florida Education Research Conference (SFREC), Florida International University (Co-authored, 2015)
The role of non-state actors in the peace process. International Studies Association (ISA Conference, Tampa (October, 2015)
Undergraduate Courses
MGMT 3018 – Industrial Relations
MGMT 3019 – Business Negotiations
MGMT 2008 – Organizational Behaviour
MGMT 3061 - Team building and Management