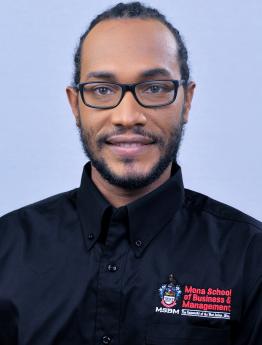 General Area of Academic Specialization
Software Development, Information Systems, Entrepreneurship
Academic Unit
Decision Sciences & Information Systems
Contact
Mona School of Business and Management (South)
(876) 977-3775
Ramon McLaren is currently the Final Projects Manager for the MSc in Computer-based Management Information Systems at the Mona School of Business and Management; a role specifically created to improve the linkages between the Programme and the industries impacted by the prototypes created. 
His unique background that melds the disciplines of software development and accounting allows him the flexibility of teaching a wide array of courses within Information Systems' space, in which he has been a consultant for over two decades. 
He also has a special interest in developing the entrepreneurial thrust of the University; as such, he sits on the Planning Committee of the Vincent HoSang Entrepreneurial Programme (VHEP) and also plays an advisory role for the Mona Entrepreneurial and Commercialization Centre (MECC).
Pursuant to the attainment of his DBA, Ramon is currently researching the areas of: IT adoption, Multi-agency decision-making and Competitive Collaboration.
Undergraduate Courses 
MGMT2004: Computer Applications
MGMT3012: Systems Analysis and Design 
Graduate Courses
MGMT6100: Management Information Systems
COMP6101: Introduction to Software Development
MISY6118: Information System Security
MGMT6031: MIS Final Project
MISY6110: Information Systems in the Organization
2018, UWI Award for Teaching Excellence