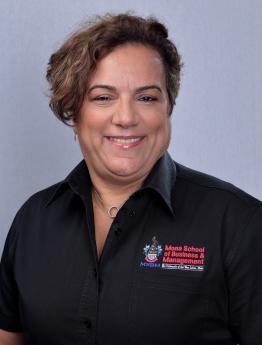 General Area of Academic Specialization
Business Intelligence, Data Quality, Decision Support Systems, Big Data for Development
Academic Unit
Decision Sciences & Information Systems
Contact
Mona School of Business and Management (South)
(876) 977-3775
Lila Rao-Graham is a Professor of Information Systems at the Mona School of Business and Management at The University of the West Indies, Mona. 
Her research interests span Business Intelligence, Data Quality, Decision Support Systems and Big Data for Development. She has published in top international journals and also presented at several international conferences in the field of Information Systems (IS). 
She is a member of the editorial board for the Journal of Global Information Technology Management and is a member of the Programme Committee for WorldCIST (World Conference on Information Systems and Technologies). In addition, she serves as a reviewer for several leading international IS journals and for some of the leading IS international conferences.
Some Research Highlights:
Authored Book (Refereed) 
Rao-Graham, L., McNaughton, M. L., & Mansingh, G. (2019). Business Intelligence for Small and Medium-Sized Enterprises: An Agile Roadmap toward Business Sustainability. CRC Press, Taylor and Francis Group, ISBN 13:978-1-138-58421-1.
Edited Book (Refereed)
Osei-Bryson, Kweku-Muata, Mansingh, Gunjan, Rao, Lila (Eds.), (2014). Knowledge Management and Discovery for Development: Domains, Strategies and Technologies for Developing Countries, Springer.
Chapters in Books (Refereed)
McNaughton, M. and Rao L. (2019). Collaborative Development of an Open Knowledge Broker for Disaster Recovery Planning. Contextualizing Openness: Situating Open Science L. Chan, A. Okune, R. Hillyer, D. Alornoz and A. Posada (Eds.), pages 147-166, University of Ottawa Press. (ISBN 9780776626666).
Rao L., Mansingh G. and Grant G., (2006). A Proposed Framework for Assessing the Factors Influencing the Adoption of Free and Open Source Application Software in Organizations in Bi. 2006, Ed. Mehdi Khosrow-Pour. Hershey, PA, IGI Group Publishing pp 333-338. 
Journal Articles (Refereed)
McNaughton, M., Rao, L. and Verma, S. (2020), Building smart communities for sustainable development: Community tourism in Treasure Beach Jamaica. Worldwide Hospitality and Tourism Themes, 12 (3).  ISSN: 1755-4217.
Rao, L., & McNaughton, M. (2019). A knowledge broker for collaboration and sharing for SIDS: the case of comprehensive disaster management in the Caribbean. Information Technology for Development, 25(1), 26-48.
McNaughton, M., Rao L. and Mansingh G. (2017) An Agile Approach for Academic Analytics: A Case Study. Journal of Enterprise Information Management, vol. 30 issue 5, pp. 701-722, https://doi.org/10.1108/JEIM-06-2016-0121.
Rao L., Mansingh G., Osei-Bryson K.M. (2012). Building Ontology Based Knowledge Maps to Assist Business Process Reengineering. Decision Support Systems, 53(3), 577-589.
McNaughton M., Rao L., Parker D., Lewis D. (2017) Big Data Analytics and Customs Throughput: The Case of Jamaica. In: Rocha Á., Correia A., Adeli H., Reis L., Costanzo S. (eds) Recent Advances in Information Systems and Technologies. WorldCIST 2017. Advances in Intelligent Systems and Computing, Vol 570, pp. 512517, Springer, Cham.
Rao, L. and Osei-Bryson, K. M. (2007). Towards Defining Dimensions of Knowledge Systems Quality. Expert Systems with Applications 33(2): 368-378.
Graduate Courses
SBCO6170: Business Analytics
SBMI6040: Enterprise Data Management 
COMP5741: Business Intelligence
2021, Research Coordinator (Caribbean) for the Global Data Barometer (GDB). (https://globaldatabarometer.org/)
Contributed to the development of the Caribbean School of Data (CSOD) through curriculum development and research. The CSOD seeks to develop a comprehensive and sustainable 'digital/data literacy' programme aimed at underserved populations within the Caribbean, with the goal of building a stronger data culture and creating essential employment skills for the emerging digital economy. Google.org, Google's philanthropic arm, is the principal funding partner for the CSOD.
2015, A member of the team that won the Principal's Research Day Award in the Category "Project with Greatest Multidisciplinary Cross Faculty Collaboration" for the design and development of an Education System Transformation Programme.
2013, Received a UWI New Initiative Grant for the project entitled, "Designing a Tertiary Educational Decision Support System: Identifying the Critical Information Set and Decision Making Styles".
2013, Received a Best Research Publication Award (Faculty of Social Sciences) at the Research Days Awards.
2012, Rao L., Mansingh G., Osei-Bryson K.M. Building Ontology Based Knowledge Maps to Assist Business Process Reengineering. Decision Support Systems, 53(3), 577-589.