Facilities
The Department has grown tremendously in its years at the University from having a single storey section which housed the laboratories and workshops to now having a wide range of buildings at the disposal of the students. These facilities include:
The Preliminary Students Laboratory
The Introductory Physics Laboratory
The Second year Electronics Laboratory
The Third year Electronics Laboratory
The Virtual Laboratory
The Materials Science Laboratory
The Optics Laboratory
Solar Laboratory - The Roof
Neutron Physics Laboratory
The Preliminary Students Laboratory
This lab is for preliminary students and consists of equipment for basic physics or electronics experiments.
The Introductory Physics Laboratory
As the name states, this lab is for introductory or Level I students. The lab was recently furnished with a set of "LabPro" equipments which are used for electronics experiments. LabPro's are useful for setting up circuits quickly and efficiently.
The Second-year Electronics Laboratory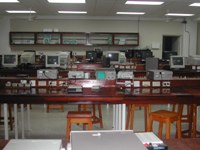 This facility is open to all electronics students; however, scheduled 4-hr time slots are allotted to second year courses. Each course has a minimum four (4) to a maximum twelve (12) lab practicals to be completed by the end of each semester. It is equipped with oscilloscopes, function generators, various capacitors, resistors, diodes, bread-boards among many other types of equipment needed for these experiments.
The Third-year Electronics Laboratory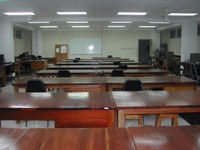 This is similar to the second-year electronics lab facility, however, has no scheduled lab times allotted to students for their lab practicals. Instead, it is open for several hours during the day to accommodate final year students and their busy schedules.
The Virtual Laboratory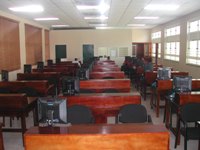 The Virtual lab is a computer lab primarily created for simulation experiments. Lectures, tutorials and presentations are often held here as well and, on occasion, students are allowed to use the facility to their leisure. This is the most recent addition to the department and proves to be a very productive one.
The Physics Department has a large local area network running Windows 2000, Windows ME, Windows XP, SuSe, Red Hat and Sun Solaris. It has several PC's, along with two Fujitsu ICL multiprocessing NT servers and a number of Sun Solaris Servers and IBM data storage servers and workstations dedicated to both research and undergraduate programmes.
The Materials Science Laboratory
The Materials Science lab caters for Materials Science majors, or students taking materials science courses as electives. This resource consists of a ceramic furnace, a hot-bake oven, a wide range of chemicals, and a tensometer among other equipments.
The Optics Laboratory
This lab is primarily for optics experiments. It is equipped with microscopes and other such instruments. It also has a fully functional solar system that students use to assist them with them alternative energy labs.
Solar Laoratory - "The Roof"
The roof consists of solar panels and a wind turbine for alternative energy research, Ham radio equipment inclusive of two Yaggi antennas, as well as, an observatory which is currently under construction.