Leak Detection Project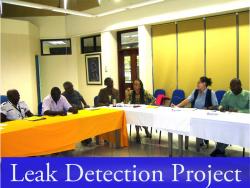 To : Deans/Heads of Departments/Units
FROM : Estate Management Department
Re : Campus-wide Water Supply - Leak Detection Project
______________________________________________________________________
The University of the West Indies, Mona Campus has engaged the services of VIP&P Enterprises to conduct a leak detection exercise on the Campus. Assessment of the external water supply mains commenced on September 21, 2011.
The project will also involve inspection of plumbing infrastructure within Faculties/Departments/Units. The Estate Management Department will ensure that Deans and Heads of Departments/Units are notified prior to inspection visits. Kindly facilitate these visits as much as possible.
Your usual cooperation is anticipated.
Regards.